广东十一选五实时开奖:News, sport and opinion from the Guardian's US edition
Assange charged by DoJ with violating the Espionage Act by publishing classified information through WikiLeaks

House speaker urges family to intervene over Trump's wellbeing, saying: 'Maybe he wants a leave of absence'
PM widely forecast to set out departure timetable in meeting with 1922 Committee chair

Local media cites recent deaths of three people as cause for hours-long queue in freezing temperatures
In 2017, I started getting regular messages from an anonymous Twitter user telling me my religion was 'evil'. Eventually I responded – and he agreed to meet face to face

Natalie Portman has disputed the musician's account of their 'relationship'. But fear not: his new book has plenty more steamy stories
A new documentary about the late fashion photographer, who died at the age of 20, recalls the rise of the controversial look with which he made his name

Artwork joins list of footballers' bronzes that received less than glowing reviews


3 out of 5 stars.
Weedkillers in your cereal. Microplastics in your salt. The Guardian's new series investigates the threat of toxic chemicals in our everyday lives
Fruity, floral, musky – from candles and cleaning products to lotions, soaps, lipstick and cologne, we live in a scented world. What is lurking in the air?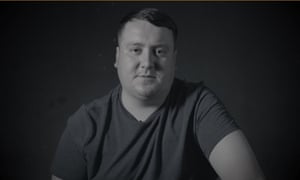 A plot to kill a Labour MP and a police officer was only disrupted after an informant within the neo-Nazi group National Action blew the whistle. Robbie Mullen passed the details on to Hope Not Hate's Matthew Collins. Here, they tell their extraordinary story. Also today: the columnist Aditya Chakrabortty on his unlikely collaboration with the techno group Underworld

Late-night hosts focused on the strange battle between the president, Nancy Pelosi and Chuck Schumer

3 out of 5 stars.
Move makes the bank the most high-profile corporation to have distanced itself from the OxyContin maker and the Sackler family

Maryland congressman wants to capture carbon dioxide pollution heating the planet and transport it in pipelines criss-crossing US
Prosthesis was implanted by the pioneering doctor Christiaan Barnard 50 years ago

Shares fall sharply in Asia, Europe and North America in intensifying war of words
After 25 years and a half-billion dollars, only half of the project's water delivered to Pine Ridge Reservation comes from the Missouri River – unlike supplies for white ranchers
Personal investments: extraordinary individuals who are champions of change
The Guardian's picture editors select photo highlights from around the world

New York's Swann Auction Galleries is putting pioneering poster art, from the late 19th- up to the 21st century, on the block

Judith Kerr, the author and illustrator whose debut picture book, The Tiger Who Came to Tea, introduced generations of preschool children to the joyful chaos of uncontrolled appetites, has died at the age of 95